Educational Furniture for School or Training Classes
---
Educational Furniture Includes Flip Top Tables and Kids Desks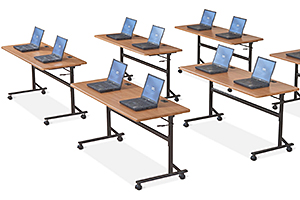 This educational furniture collection comprises many styles of tables and desks for classrooms or offices. Most are designed to be mobile with rolling casters and offer many adjustable features. Our educational furniture also includes children's desks with matching chairs. Unlike the days of old, this classroom equipment is entirely customizeable to conform to the size of the student. Ergonomic designs that come with the sit/stand models provide the worker with a choice. Switching between a sitting position to a standing one increases circulation and focus. This educational furniture offers the best in modern learning fixtures suitable for all levels of teaching.
What do the different styles of classroom equipment offer?
Educational furniture with flip-up tabletops is available in two sizes: 60 and 72 inch lengths with your choice of teak or mahogany laminate. Each unit can accommodate two people with plenty of open leg room. However, their biggest feature is the flip-top. A lever mechanism lifts the tabletop to a vertical position which allows for major space-saving. When you need to clear the floor quickly, these training tables roll away quickly thanks to their casters and stack in front of each other into a small footprint.
Adjustable height desks are becoming more popular with office workers who like the idea of not sitting 8 hours a day at their computer. Having the ability to sit or stand during the day helps increase productivity in addition to breaking up your routine with a little variety. All desks include locking casters and plenty of desktop space for the average office worker. Fully adjustable desktops come with electronic adjust or manual hand cranks that allow users to change from sitting to standing at any time. Other fixed height adjustable training and classroom furniture styles can be assembled in a choice of fixed height options.
Children's school desks offer a variety of usability features designed to create ergonomic, functional educational environments. Able to accommodate ages 3 to 12, our selection of child-size classroom furniture is ruggedly built with steel tubing and thick plastic accents. The chair and desk can be raised or lowered by loosening the set screws. Other features include bag hooks, compartment trays, and a tilting desktop. The real value comes with being able to adjust to a child's growing stages.
All of our office and training room tables are designed for durability and heavy daily use. Sturdy construction includes commercial quality steel desk frames, plastic laminate work surfaces, and professional grade hardware. The majority of our classroom furniture items ship flat with assembly required for convenience and economy.