Best Selling Portable Tables, Chairs, Counters & Display Cases
---
Best Selling Portable Tables & Chairs for Events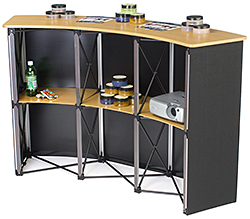 Why are these best sellers from our collapsible chairs and portable tables line so popular? Most of these mobile fixtures can be used in or out of doors, solving myriad challenges for event planners in charge of company-wide meetings, expos, and catered celebrations. The portable tables, like professional folding furniture, are easy to set up, break down, transport, and store. Save clients money in the long run by purchasing outdoor dining fixtures for weddings and parties instead of renting them. When selecting party furnishings and supplies, consumers should look for lightweight, waterproof construction using materials such as polyethylene (HDPE), with stabilizing steel legs that are collapsible. Stage conversation areas using portable tables, also known as folding furniture, and chairs that are adjustable from regular - to bar-height for use at weddings, cocktails parties, and conventions. Expand audience instantly in a retail shop for product demonstrations or new merchandise launches with lightweight trade show furniture. A portable table can be paired with one of our best-selling chairs, offering both style and comfort. These professional event fixtures are perfect in the kitchen or office, projecting style in the short term, saving money in the long term.
What selections of quality lightweight folding furniture are found in this category?
Portable tables are the perfect dining and bar accessories for weddings and parties. These easy-to-store professional accessories are great for company-wide office meetings and retail functions, where more visitors than usual are expected.
Collapsible folding furniture like bar stools and chairs are best when style, comfort, and functionality are addressed all at once. Foot and knee rests are key when guests will be seated a long time; adjustability provides flexibility and saves money.
Retail showcases with strong tempered glass and steel framing can be set up to highlight artifacts in a museum or collectibles in a top end retail shop. Portable & collapsible, these temporary furnishings boast quality that is on par with permanent fixtures.
Trade show counters for product launches, demonstrations, and exhibitions have never been easier than with these mobile stands that go with you on the road. For convenience, and for fun, these checkout stands feature a hook-and-loop design making for easy setup.
Portable laptop stands with accordion bottoms create instant work stations for in-office or out-of-state business meetings. Place these computer displays in a trade show booth to expand work space in tight areas.
Carry cases come with most units featured here, making transportation super-easy, while safeguarding equipment. When in transit, be sure to purchase furnishings that break down to fit into a case that is easy to carry or pull, such as those pictured in our "best sellers" section.
Small, round collapsible cocktail are lightweight and easy to carry, and their MDF construction and sturdy steel legs ensure durability, even with frequent use. Create conversational areas at an event, coffee hour, banquet, wedding bar, or expo using inexpensive collapsible trade show furniture that saves money in rentals. Select from adjustable saddleback chairs with a pneumatic lift, back and foot rests and rubber feet, or simple director-style styles, both extremely popular. In addition to portable furniture, this section offers wrinkle-free spandex, stretch-fit, stain-resistant coverlets sold with bar-height pedestal highboys. Space-saving narrow folding banquet and serving tables hold up to 350 lbs., so chaffing dishes, cake holders, and coffee pots won't tip over. Tall jewelry cabinets with top and/or side lighting and tongue-and-groove design showcase collectibles and objets' d'art at a trunk show. Portable laptop stands that can be transported and stored in a convenient carry case help people put together a power presentation off site. A curved, pop-up display counter with a wood grain top and base is eye-catching and functional, providing a checkout space at company functions and conventions and rounding out this excellent best-sellers section of products.