Portable Bars - Folding Outdoor LED Beverage Stations on Wheels
Sorry, nothing is currently available here. More may be back in stock soon! For more details or help finding alternatives please contact us via phone or live chat during operating hours.
---
Portable Wet Bars - Mobile Beverage Station Fixtures with Optional LED Lighting and Custom Graphics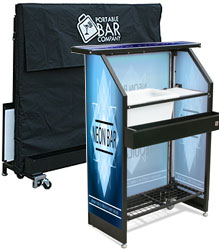 What types of portable bars for events are available for commercial, professional and private functions? FoldingTablesNow.com offers mobile patio serving stations in a vast array of styles, sizes, and configurations for brand promotion, trade shows, catered events, hospitality, and more. Indoor/outdoor portable bars for events range from simple and streamlined powder coated steel construction with plain exterior panels to eye-catching designes with custom graphics or personalized artwork and LED illuminated lighting. Our huge selection of entertainment and catering furnishings offers many configurations to accommodate professional, private, and commercial hospitality functions. Lightweight portable bars on wheels, also known as indoor/outdoor beverage stations, are different from standard restaurant fixtures. LED lighted beverage bars offer a dramatic, attention-getting twist on conventional catering fixtures without sacrificing storage and mobility. These commercial grade portable bars with built in lighting are space-saving, folding beverage stations that incorporate industrial strength casters for easy transport from venue to venue or room to room. These wheeled banquet fixtures for outdoor and indoor parties are available at economical prices that help avoid the cost of rental fees for multiple uses across multiple events.
What sets LED beverage stations apart from standard restaurant or catering fixtures?
Portable bars with wheels feature locking casters for to provide stability during events. These fixtures set up and break down easily, are easy to transport from venue to venue, and fold for space-saving storage between uses.
Mobile beverage stations incorporate all the functionality of standard catering furniture and easily handle high volume public environments. Our wheeled folding bars come with speed rails, ice bins, bottle shelves and more.
Modular banquet wet bars with custom graphics options provide branding opportunities at professional or business events.
LED bars incorporatee brilliant illumination to showcase brand graphics, marketing messaging or facility identification. Programmable, multi-color lighting is energy efficient and easy to program and operate.
Folding banquet beverage stations with wheels for promotional celebrations can be expensive to rent, especially when a company puts on numerous events in a year, so buying is more cost-effective. When shopping for affordable supplies, look for features that reinforce a company brand or bring attention to a specific event or line of merchandise. Creating a celebratory mood is easy with LED lighted fixtures such as these beverage stations that are all-in-one concessions systems. Complement banquet furniture with unique, stylish looking wet bars and beverage stands constructed from durable materials that hold up over time and withstand heavy public usage. Folding designs and durable slip-on covers these banquet or event accessories easy to store when not in use.
This versatile restaurant equipment selection is appointed with integrated beer taps, a sunken speed well, ice bin, cutting board, knife, paper towel, and rag holder, so that everything needed for a great party is at hand. Some of these portable drink servers have convenient bottom storage for personal belongings and supplies. These inexpensive bars come in myriad dazzling configurations. Mobile banquet beverage stations include optionas for rcustom graphics and personalized artwork for branding or drawing attention to a product line. Most outdoor parties and promotional or private functions are incomplete without an eye-catching drink station that serves as a gathering place for attendees. Restaurant equipment rentals are an expensive option in comparison to buying an impactful and affordable LED lighted mobile concession stand. Outdoor banquet wet bars are great for business events such as conference afterparties, retirement parties, lectures, product launches, or meetings. Retailers use these fixtures for wine tastings, demos, and product launches or as sampling stations. Rolling LED lighted banquet bars are perfect for catered or private parties or events such as weddings, baby and bridal showers, and birthdays and draw attention whether used indoors or outside.
There is a design for every décor and function in this quality line of catering supplies. Fixture portability is of key importance, particularly for event planners and caterers. In addition to sturdy caster wheels, many of these units come with covers for protection from damage while in storage or during transport. Many wet bar models include custom printing to highlight brand or product information is available for tradeshows and business events. Most supplies like this serving furniture from our portable wet bar series can be same-day shipped when in stock!