Portable Display Stands for Trade Show or Store Merchandising
---
Folding Trade Show Display Pedestals, Portable Stands & Collapsible Event Counters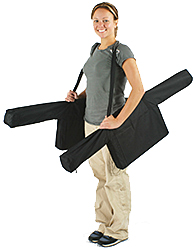 Looking for lightweight portable display stands that can be used for showcasing merchandise, as temporary countertops, or demo tabletops? These collapsible demonstration or trade show pedestals are easily moved and transported due to their simple design and lightweight construction. Many of our economical folding portable display stands feature built-in shelves, pockets, or storage to accommodate a wide range of uses at promotional events, conventions, and conferences. The collapsible podiums available for sale in this category include hard top pedestal models that are ideal presentation accessories as well as offering as workspace for laptop computers and tablets. These portable display stands, or lightweight folding trade show pedestals and promo counters, are made of a variety of durable, lightweight materials from commercial grade cardboard to sturdy plastic to aluminum truss with Velcro® fabric and are designed to withstand heavy use in high traffic public areas. Lightweight trade show or exhibition merchandising fixtures are available in a variety of colors and finishes and many can be further customized with branded graphics or messaging. Almost every model of these small podium pedestals comes with durable carrying bags or wheeled hardbody cases for convenient transport and storage between events.
What styles of trade show or demonstration pedestals are available?
Lightweight portable display stands with sturdy work surfaces easily function as counter fixtures with built-in internal shelves or storage .
Pop-up folding pedestals with stretch covers are ideal for trade shows because of their lightweight construction and elegant modern look. Full color printed covers give the look of custom made folding tables at a fraction of the expense.
Small, collapsible podium counters with built in tablet or literature holders help attract customers and make great small demonstration fixtures.
Fold up countertops can be used for promotions, demos, or merchandising and can easily accommodate laptops or tablets for multimedia product presentations or advertising.
Small truss-base or collapsible folding display stands come with the option of adding custom printed branded posters or graphics for increased visibility and brand recognition in busy public environments.
Folding trade show fixtures frequently come with carrying cases and bags help protect collapsible pedestals or display fixtures from damage during transportation or storage in between events.
There are several reasons why it makes sense for any commercial operation to use these folding display stands, but the biggest by far is the fact that they are so easy to break down and carry. Any business or organization that frequents events like trade shows, conventions, job fairs, even craft shows will appreciate the convenience of this type of collapsible plastic or cardboard pedestal. Not only are a full range of sizes availbe to match the size of any booth or exhibit area, but the majority include their own carrying bags or cases, which makes these fixtures easy to transport as well as storing efficiently in between events. These collapsible display stands are great for merchandising because many styles feature built-in storage shelving for holding overflow merchandise or products as well as supplies or accessories. Truss-design podium counters are ideal for displaying promotional material or products at trade shows, but can also be used almost anywhere for demonstrations or customer service. Folding show pedestals are also great at banquets and other public events to provide additional counter space for special displays, accessories or even supplies.
How easy are folding display stands and tables to assemble and break down?
Pop up trade show fixtures simply lift or twist into place and then do the same to break down.
Metal show stands can feature folding bases and screw on MDF, plastic, or even wood tops that come apart and assemble easily.
Small fold-up cardboard pedestals come in a range of sizes and are easy to set up and take down for use anywhere, anytime.
Folding merchandising displays with metal framing sometimes include attaching Velcro® or vinyl coverings and graphics that wrap firmly around bases for full coverage.
ul>

Lightweight trade show display stands are made to withstand heavy use in public environments. Aluminum truss designs are easy to assemble and feature MDF laminated work surfaces. Other collapsible hard top counters have metal pop-up frames with Velcro® covers and feature internal storage for event supplies or accessories. Some MDF toppers feature a corrugated plastic base wrap or panels and may have an aluminum frame or header for maximum visibility. Still other wooden countertops have a folding frame with open-access acrylic pockets for sales literature, circulars, or catalogs. Our lightweight collapsible pedestal stands take only minutes to set up and break down. Tiered riser-style retail pedestals offer acrylic shelves that can exhibit items for purchase or other merchandise and materials as needed. Many of these counters are also available with the option of custom printed graphics for increase brand recognition.

There are many places and settings where these easy to set up fixtures are likely to be used. Probably the most obvious is at a trade show or convention. These mobile counters are smaller than folding banquet tables and highly suitable for expos or special events. Craft or job fairs are also events where these booths are often seen. The sturdy tables are a great way to present brochures, catalogs, and other information to potential clients or employees and high visibility graphics help advertise and attract passersby. In-store demonstrations are also a logical choice for the use of collapsible counters or pedestals. A pop-up fixture lends itself well to the placement of many kinds of items to be easily displayed to customers and extra items, like napkins, prizes for giveaways, and additional merchandise can all be stored in the hidden rear storage compartments of many of these units. Because of the easy set up and versatile design of these fixtures, they can easily function as a podium for a speaker, a merchandising fixture, or a simple demonstration station in any environment.