Portable Counters For Trade Shows, Expos, Demonstrations & Conferences
---
Portable Trade Show Counters - Collapsible Podiums & Pop Up Kiosks with Optional Custom Graphics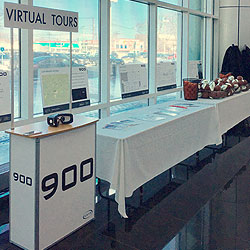 Are portable counters the right display furniture for your next promotional event, presentation, or demonstration? Our folding & collapsible trade show podiums are easy to set up special event or exhibit fixtures designed to attract customer attention. A variety of styles make these kiosks and countertops great for product merchandising at conferences or conventions. Simple, sturdy designs mean they are also a perfect choice for creating demo stations or temporary workstations as needed. FoldingTablesNow.com offers stock and custom portable counters for tradeshow demonstrations and marketing events, including pop up podiums with custom graphics, and branded exhibition kiosks with logos. These collapsible tradeshow fixtures can be used as standalone booth displays or as part of a complete promotional or convention exhibit.
Our commercial-grade portable counters for trade shows, sometimes called collapsible promotional kiosks, are perfectly suited to a variety of merchandising and marketing uses. Merchandisers use them for in-store product demonstration or customer sampling stations as well as at off-site markets and other sales events. Service businesses and organizations find these presentation stands effective for attracting attention at college events, job fairs, conferences, and industry promotions. Each high quality pop-up fixture offers a roomy work surface upon which owners and consumers can conduct a wide variety of business functions. In addition, many of our portable trade show counters offer custom printed cloth or spandex wraps that are ideal for promoting brand identity, logos, or messaging at conferences. Our in-house printing capabilities allow FoldingTablesNow to offer fast turnaround on even full color customized wraps and branded coverings. Whether plain or custom printed, our commercial collapsible kiosks and demo stands are an economical way to attract the attention of customers, clients, and passers-by in high volume, high traffic environments.
Why are folding trade show kiosks such an economical investment?
Portable counters are ideal for off-site customer service interactions. A wide work surface offers space for product demonstrations, reviewing service or contract documentation, or simply offering solutions and answers to client questions. Folding podium kiosks with integrated iPad holders or enclosures allow these versatile counters to function as portable checkout stands as needed.
Temporary display stands easily do double duty as merchandising fixtures and point of sale stations. Roomy rear storage areas can keep excess inventory, processing equipment, and cashwrap supplies tidy and out of sight.
Trade show counters with integrated tablet holders can be used as payment processing stations by staff as well as for self-service by customers. Multimedia presentations can both attract new traffic in crowded event environments as well as allow potential patrons to access advertising, inventory, or ordering information on their own for a personalized experience.
Booth-style tradeshow kiosks offer eye catching graphics to attract attention at even the busiest promotional events. This classic customer-facing counter style is perfect for sampling stations, promo giveaways, contest entries, staff or client workspace, and much more.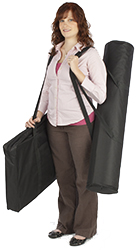 What options are available for pop-up or folding tradeshow display stands?
Full size folding counters for trade shows are available with a number of different coverings: fixed smooth plastic and aluminum tambour panels give a sleek look, while velcro®-receptive fabric offers a softer appearance and can be easily customized with add-on storage and display accessories. Acrylic panels can be custom imprinted with vinyl graphics to create high-visibility branded stations.
Folding trade show fixtures offer hidden rear storage shelves for maximum usability. Merchandise, accessories, equipment, or items such as water, tablets or notebooks can be safely stowed away out of customer view while remaining within easy reach and without cluttering visible work surfaces.
Freestanding podium kiosks are available both with and without headers and are designed to attract maximum attention. These tall, narrow booth counters offer a custom base graphic as well as a raised banner-style area that is perfect for logos or branding. Simple folding or pop-up construction makes this type of high impact tradeshow furniture easy to set up, move, store and use.
Most of our pop-up promo counters come with their own carrying bags to make setting up and transporting these countertops and display kiosks simple. Depending on the design of the folding display stands, carryalls can feature soft or hard shell construction with shoulder straps or wheels. Durable carry bags and wheeled cases do double duty protecting fixtures during storage as well as transportation between locations.
FoldingTablesNow offers wholesale pricing on both stock finish and custom printed trade show counter kits. Our easy to set up folding podium stands are ideal for attracting, assisting and servicing customers in any environment. Offering food or product samples, displaying goods at a craft show, taking applications at a job fair, or simply offering printed collateral at a college expo or promotional event are only some of their many uses. Commercial grade construction, economical pricing, usability features, and customized graphics options make easy to transport event kiosks a valuable addition to any business.