Portable Display Cases are Trade Show Fixtures designed for Easy Transport & Storage
---
Folding & Collapsible Trade Show Display Cabinets with Wheels & Hard Shell Carrying Cases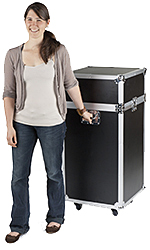 Looking for an easy-to-move fixture for showcasing merchandise, collectibles or curios at off-site events? These portable display cases are designed to be easily assembled or set up at trade shows, promotional events, expos, and fairs. Collapsible showcases allow exhibitors to safely bring merchandise, exhibits, or product samples to conventions because they offer secure storage as well as key-lock sliding access doors. Portable display cases with wheels, like these collapsible tempered glass showcases, are also ideal fixtures for collectible, sports memorabilia, or jewelry displays in retail stores and showroom environments. The safety glass construction offers superior protection in public areas, and this type of mobile showcase also makes a fine in-store fixture because many models have locking access doors to prevent theft of valuable goods. Our high visibility commercial portable display cases come in a number of styles and finishes to meet the needs and decor of retail stores, boutique owners, crafters, resellers and businesses of all kinds. In addition to various shelving and storage configurations, many of our rolling jewelry or merchandise towers can be customized with imprinted logos, graphics or promotional posters for company and brand recognition and advertising.
What styles of trade show merchandise cabinets with wheels are for sale?
Round portable display cases are available in a curio cabinet style with a cylindrical frame and two storage areas. This type of tradeshow merchandising fixture is incredibly easy to assemble and can fold by twisting the top. These trade show display cases feature a counter surface made of black MDF and white acrylic shelves for holding jewelry and other merchandise. They come with curved plastic panels that affix to the aluminum frame with magnetic strips for quick assembly. In addition, these clear pieces can be customized with imprinted advertising or marketing posters, making them ideal for use at trade shows or other promotional events. While these units do not have a locking mechanism, they come with a convenient carrying case that features an easy-grip handle and trolley wheels. "Twister tables" like these can be broken down or set up in less than a minute, making them excellent for users on the go.
Square commercial collapsible merchandise cabinets are also available. These mobile glass showcases offer a variety of configurations, including models with a single viewing area and a lower storage enclosure, and full vision display cases with multiple tempered glass shelves for goods, jewelry, trophies and sports memorabilia. Square units are great for retail environments because they include movable halogen or LED lighting that can illuminate sale products. They also feature locking doors that makes them suitable as mobile retail store fixtures. Holders with a storage area feature adjustable clear shelves for accommodating different sized items. Stands with multiple compartments have fixed shelving, but they offer more space to show wares to customers and passersby. They also include adjustable feet for leveling them on any flooring and they are available in black, white and silver finishes.
Rectangular convertible tempered glass showcases with wheels are also available in a variety of frame designs, finishes, and configurations. Each high visibility stand in this style features LED illumination that can be used to create a noticeable exhibit at trade shows, in retail showrooms or gallery environments. Like square display cases, these cabinets feature clear locking doors that allow them to prevent theft and tampering in retail environments. This type of event and store fixture also comes in a variety designs, with a choice of enclosed storage spaces and multiple full-view compartments, all with adjustable height shelves. This type of mobile trade show display case comes in neutral finish colors, including black, white or silver, that blend with any interior or booth decor.
While these tempered glass showcases with wheels are ideal for retail environments and off-site events, they can also be used in showrooms and retail environments for easily moveable merchandising fixtures. Schools and other institutions can also use these cases to display trophies, awards and creative projects, making them great for any hallway or lobby. Their convertible mobile design allows them to be moved into different locations for open houses and parent-teacher events as well as special occasions.