Trade Show Chairs are Wood, Metal & Plastic Folding Portable Event Seats
---
Folding, Stacking & Director Chairs for Trade Shows, Conventions, Conferences & Events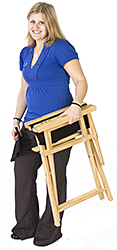 Do you need to order trade show chairs that are portable and can be used for both in-store and off-site event use? We offer a wide selection of versatile commercial-grade fold-up or stackable seating in a variety of styles to meet different needs. From classic metal folding trade show chairs to custom printed director chairs to economical plastic stacking seats, our professional quality fixtures are made to withstand heavy use in public environments. These commercial trade show chairs, also known as collapsible event or conference seating, are available singly or in sets, and with custom printed and plain covers to match decor schemes and branding as needed. Neutral and muted colors such as black, white, blue, red and silver complement a wide number of booth or exhibit design styles as well as creating a matched look with standard table coverings. Our economical, portable folding tradeshow chairs are sturdy enough for every day use at special events, banquets, receptions and conferences, but lightweight enough to require minimum space for storage and transport when not in use.
What folding tradeshow and event seating styles and options are available?
Traditional folding trade show chairs are constructed from lightweight plastic and sturdy steel for both durability and affordability. Tubular frames allow these fixtures to be both lightweight and very stable. Stackable seating is easy to transport and store in between uses, making it ideal for on and off-site event use.
Stackable tall folding chairs for tradeshows or events give a stylish look to any booth or table. This type of portable seating is perfect for smaller groupings or for attracting customer attention at demonstrations, presentations, or personalized service. The taller height of this type of seating, combined with the elegant, modern styling, makes this type of tradeshow chair a perfect choice for interacting with customers or visitors.
Bar height aluminum directors chairs are also available with a sturdy aluminum frame. They each have a neutral silver finish that complements any folding table. While these tradeshow sets are made of a heavier material, they still feature a portable fold up design ideal for using at conferences and meetings or for everyday hospitality use as banquet or occasional seats. This type of exhibit furniture comes with sturdy washable cotton canvas seat covers that can be easily printed with custom branding, logos, or messaging.
Standard fold up and stackable conference chairs are available in different seat heights that can be perfectly matched to their intended use. Wooden event seating heights range between 18" and 29". "Standard" 18" high models are made to fit under folding tables to allow exhibitors to sit comfortably behind fixtures. Tall director's chairs that measure 29" tall are called "bar height" because they are perfect for use at bars, counters or at the center of exhibits or booths.
Classic wood director chairs for tradeshwos are made of durable rubberwood that is made to be long-lasting and lightweight. Each of the portable wooden director seats has a light, maple finish that looks great with any exhibit fixture. Rubberwood is more environmentally friendly than other materials, because it is made from trees that are normally burned after producing latex. These fixtures include rubber feet to resist sliding on slippery surfaces and can also prevent flooring from being scratched.
Regular and tall director chairs come with the option of colored canvas covers in bold colors including black, red or royal blue. In addition, optional custom printing is perfect for displaying a company logo, branding information, personalization, or other messaging. A personalized imprint helps build brand identity and recognition in any environment, but is particularly effective on expo furniture. Custom imprints are available in single and 2-color and full color printing.
Plain neutral-colored chaircovers are also available for traditional black and white metal folding chairs. This type of seating cover is made from a stretch polyester fabric that turns a simple fold-up, stackable seating fixture into an elegant table accessory that will complement any decor.
Wood and metal folding chairs are one of the most versatile event fixtures available. Easy to customize or match to any booth or conference decor, these portable, fold-up seats are furniture that complement and enhance visibility, customer service, merchandising display, sames, and more. Personalization and branding options, a wide variety of construction materials, and sizes and styles that match any decor make these economical tradeshow accessories a great choice for any business, organization, or facility. For fast, same day shipping, order online at FoldingTablesNow.com. Even custom printed units ship quickly due to our in house printing capabilities.