Table Cover Sets are Ready to Use Event Furniture with Solid or Custom Tablecovers
---
Ready-to-Use & Custom Table Covers with Round or Rectangular Event Fixtures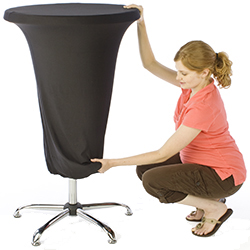 Looking for ready-to-use table cover sets for special events or trade shows? FoldingTablesNow.com offers a wide selection of plain and custom rectancular and cocktail folding tables that come complete with polyester or stretch coverings. These high visibility trade show or banquet kits are available with round or rectangular collapsible event fixtures to meet any need. These folding table cover sets include tall high top cocktail furniture as well as shorter seating fixtures that are ideal for meetings or demonstrations. In addition to a full variety of color and size combinations, vinyl imprints and digital printing are available as a way to create eye-catching, economical advertising that will stand out in a crowd. Our custom spandex trade show table cover sets feature full color printing for graphics, logos, or advertising messages, making them a superior choice for creating brand or name recognition in high traffic areas. Whether the goal is protecting event furniture with a simple stock color tablecloth or showcasing marketing and branding messages with customized throws, FoldingTablesNow's huge selection of in-stock covered collapsible fixture kits provides fast-shipping, economical trade show, banquet, or special event solutions.
What types of tablecoverings are available in these table cover sets for events?
Woven polyester throws have a classic, timeless look that is perfect for any event, from a catered private wedding reception to a promotional trade show. These loose tablecloths come in three basic styles:

Full drape throws cover the entire folding fixture, ensuring that the customer's view of the underside is blocked on all four sides. This type of tablecovering ensures privacy for event presenters or attendees as well as focusing customer attention on the tabletop.
3-Sided, open back table cloths are perfect for trade shows because they allow staff easy access to materials and storage space underneath the fixture, while blocking it from customer view.
Convertible tablecloths are loose throws with carefully placed velcro tabs that allow one covering to fit multiple fixtures. These versatile accessories are designed for draping in a traditional manner over larger stands, and using the velcro attachments to create a more fitted look on smaller size furniture.

Stretch fit polyester tablecoverings are designed with footed fitting pockets that slide over the base and hidden zippers to create tight-fitting fixture coverings that give a sleek, modern feel to any environment. Stretch material can be used for traditional size fixtures as well as for high-top cocktail table covers, giving a contemporary look that complements any decor. Easy-clean spandex is machine washable and long-wearing, making it ideal for public use.

Round stretch cocktail table covers are a perfect way to create occasional seating, product demonstration kiosks, or display stands. The easy-to-clean, machine washable polyester spandex fabric is stain resistant, making this "scuba" style fitted accessory a perfect choice for protecting fixtures used for dining or drinking. Custom spandex table covers are ideal for showcasing brand graphics or advertisements in trade show or promotional event environments.
Fitted rectangular stretch trade show table covers are available in full coverage and 3-sided styles to allow staff access to the rear of the fixture. This style covering is an elegant choice for tradeshow, conference, or convention use.
Stretch headers and backdrops are an economical alternative to tradeshow booth assemblies. When conbined with spandex table covers, adjustable height accessories give any fixture the feel of a full kiosk. This type of furniture covering is particularly effective when customized with branding or logo information.
While these versatile fixture and cover sets are a perfect choice for social and even private events, the ease of use and portability make these economical kits ideal furnishings for commercial events such as promotional fairs, conferences, or trade shows. Plain or subtly branded custom coverings give the environment an upscale feel and free guests and patrons to focus on their companions or special proceedings. Boldly colored and custom printed tablecoverings with brand and business identification, on the other hand, attract customer attention and increase company recognition.
What kind of customization is available for these commercial grade tablecover sets?
24-Hour turnaround is available for single-color vinyl imprints. This choice can make the difference between looking like everyone else at a trade show or conference, and building or creating brand name recognition. Unlike traditional dye-sub printing, vinyl heat-transfer imprint requires very little lead time and no proofing, allowing FoldingTablesNow to ship the completed set within 24 hours of order!
Full color digital dye sublimation printing allows photographic-quality reproduction on polyester fabrics. High visibility graphics make a huge impression, especially when used on sleek-fitting coverings for booth furniture and accessories. Digital reproduction allows brand colors and logos to be instantly recognizable by customers in even the most crowded environment.
Traditional heat-transfer vinyl imprints are available in 1, 2 and 3-color combinations. This type of printing is best for use with bold, line-based or vector artwork. Logos, advertising or marketing messages, and simple graphics can be quickly reproduced on cloth or spandex using this method.
Whether used as simple dining furniture, conference fixtures, cocktail stands, or trade show booths, combination fixture-with-cover sets from FoldingTablesNow are an economical choice for any business or institution. A full variety of heights ranges from traditional 29" tall fixtures that accommodate banquet diners, conference panels, or tradeshow demonstrations and literature giveaways to high-top cocktail furniture that serves equally well as a bar accessory or product display stand. Plain throws and fitted cover sets with full color brand imprints and sturdy collapsible stand construction allow these versatile, economical portable seating kits to meet any business, commercial, or institutional need.