Portable Cocktail Tables And Bar Stools for Trade Shows, Conferences & Promotional Events
---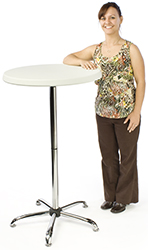 Folding Cocktail Tables for Sale - Portable Bar Height Fixtures, Stools & Seating Sets
Are portable cocktail tables and bar stools the right solution for your business' everyday and special event seating? Pub-height high top fixtures offer some of the most elegant and contemporary styling of any of our hospitality and trade show furniture accessories. The wide variety of styles offered can be matched to almost any brand identity, décor, or locale. FoldingTablesNow offers commercial quality portable cocktail tables and bar stools for sale as single fixtures or as part of economical chair sets combining tall fixtures with pub height seating. Different color and finish options, as well as adjustable sizing, make this type of event and hospitality seating and display furniture an affordable choice for commercial, professional, private, and corporate event use. Pub height portable cocktail tables and bar stools, some of the most popular high top contemporary seating fixtures, are durable trade show or hospitality accessories built to withstand heavy daily use in high traffic environments. Styles range from classic pub height seating to ultra-modern retro chairs in colors to match the decor of any exhibit booth, restaurant or conference. Sturdy enough for everydayuse but lightweight enough to serve as on or off-site special event seating, each high top event fixture or set is an affordable, eye-catching accessory that will complement any environment.
Where are counter height pub table sets effectively used?
Portable cocktail tables and bar height stools with adjustable countertops and seat height make ideal trade show or incidental seating for events such as expos, job fairs, off-site meetings, even gallery openings, product launches, exhibitions and similar events.
Adjustable height table sets are ideal for creating social micro-seating areas for customer service, conversation, sales, or socializing. Hospitality areas such as hotel suites and waiting rooms use this type of fixture to accommodate small groups. Bistro-size fixtures also complement cafes, restaurant, or lounge areas, as well as adding an intimate feel to private events.
Pub height folding cocktail table and chairs sets, such as our 3-piece event kits, are easily moved, can adapt to multiple facility decors and can be used in conjunction with other service, dining, or special event collections. Conferences and promotional events such as kickoff meetings, as well as special events such as weddings, receptions and catered gatherings, frequently require adaptable, portable furnishings that offer more personal seating areas than larger standard tables.
Modern counter height pub furniture, such as our contemporary sets with the tall chrome adjustable chairs and high top trade show cocktail tables, are also a stylish option for use as service and sales fixtures in retail and commercial environments. Spas, salons, and service organizations can all benefit from one-on-one areas for customer interaction.
Smaller size folding cocktail tables are great for creating more intimate seating areas in both hospitality and commercial environments. Depending on the specific models chosen, these adjustable ensembles offer a variety of height options. The retro tabletops, many of which offer full 360° rotation, can be set to heights between 27" and 36" tall. This allows them to function equally well as pub height dining tables, trade show booth accessories or counters and merchandising display fixtures. Bar stool seat heights adjust accordingly to maintain the 10"-12" difference between tabletop and chair that is ideal for usability. Each of the seating fixtures offers a sturdy base for stability, comfort, and ease of movement while in use. Additional usability features vary by design, and include tabletop rotation, manual or automatic height adjustments, portabilty options, and customization.
Whether used in retail stores, in a restaurant, dining room or at an off site event, the pub height fixtures offered for sale in this collection allow any business to create a stylish, modern looking ensemble that will complement any event, restaurant or business establishment. Our economical counter height trade show table sets are available in a suite of retro styles that manage to combine the feel of classic pub stools with creative, fresh design and modern materials and finishes like chrome and glass to create a group of elegant, eye-catching elements with an overall contemporary feel. Each 3-piece bar table and chairs can be ordered as a single unit or separately as individual fixtures to create more of a custom set.